About this site
This internet site is associated with the Comparative Mammalian Brain Collections site at http://brains.anatomy.msu.edu/museum/brain/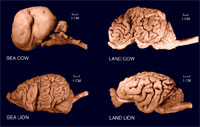 The Brain Biodiversity Bank refers to the repository of images of and information about brain specimens contained in the collections associated with the National Museum of Health and Medicine at the Armed Forces Institute of Pathology in Washington, DC. These collections include, besides the Michigan State University Collection, the Welker Collection from the University of Wisconsin, the Yakovlev-Haleem Collection from Harvard University, the Meyer Collection from the Johns Hopkins University, and the Huber-Crosby and Crosby-Lauer Collections from the University of Michigan.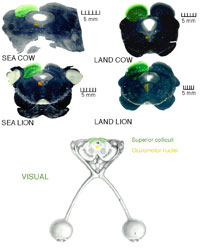 Our purpose here is to provide some examples of ways in which images and information from the Collections, in digital format, can be used in educational, research and commercial enterprises. Millions of beautifully stained sections from hundreds of different brains, assembled in many locations over the past century can be made available for a broad variety of purposes.
The pictures on this page can be viewed at full screen size by clicking on them. They illustrate how images from the collection can be used for comparative brain study. Images of the whole brains above are from the collection archives, as are the images of stained sections to the left. They show the relative development of two visual centers in the brain stem in mammals of differing life style: the SEA COW or MANATEE Trichechus manatus, the "LAND" COW Bos taurus, the SEA LION Zalophus californianus, and the "LAND" LION Panthera leo. Drawing at the lower left is based on an illustration from Nieuwenhuys, R., J. Voogd and C. van Huijzen, The Human Central Nervous System. Berlin: Springer-Verlag, 1978.
What we are doing currently at Michigan State is a series of demonstration projects for publicizing the contents of the collections and ways in which they can be used. We have prepared databases of the contents of the collections for presentation and use on this site, as well as for downloading by users in several formats. We are also developing a series of labeled atlases of stained sections for educators, students, and researchers.